OKAVANGO VASBYT FOR GIRLS
18 SEPTEMBER UNTIL 28 SEPTEMBER 2019
An optimum relationship with all schools is the quest of Temba College. However, no school is involved with the arrangement of the tour and therefore accepts no responsibility of any kind irrespective of the fact that you may have been introduced to the tour at such school.
Enrollment is intended for grade 10 learners, but grade 11s are, subject to specific conditions, also welcome.
The Okovango Vasbyt is not a survival course and, in order to ensure optimum performance, you will be presented with sufficient and quality food and water at all times. You never purchase food if you are hungry whilst on the Okovango Vasbyt; you simply ask and it will be provided. It is however a physical and emotional challenging leadership course.
The Okovango Vasbyt has, like the Kalahari Vasbyt adventure has for young men since 1987, influenced young lady's lives constructively since 2014! The level of the physical and mental difficulty is very high, but you are never humiliated whilst learning discipline and enhancing your fitness. This due to the tested scientific methodology employed. At no time will you be expected to attempt anything that the tour leaders will not be willing to do themselves. Truth be told; this will probably be the vacation of a lifetime!
We acknowledge the important necessity of water for the young ladies. Therefore, we did our utmost to source camps offering superb facilities and amenities. The lasses, although enthusiastic, will not want to risk disfigurement of any sort and therefore we have adapted the requirements to pass the course. However, the course will still be as challenging for them as the Kalahari-Vasbyt is for the young men.
The Okovango Vasbyt is a subsidized course and therefore all funds received from you and various sponsors are managed transparently and for the sole benefit of the tour members. If you are keen to make a difference in life, you are the perfect candidate and simply must enroll. It will furthermore give you an advantage over others who did not enroll and they will find it difficult to catch up with you.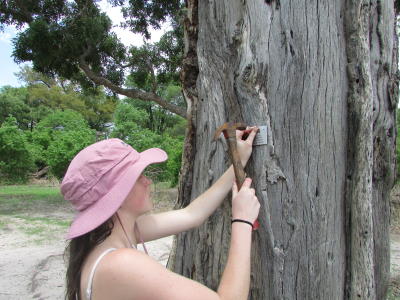 The tour commences at 06:00 at the Cape Town International airport on 18 September 2020 and you will be back in time to start the new school term on 29 September 2020! Be sure to check your diary as the tour may co-inside with matric dances that you are aspiring to attend.
Before applying for the Kalahari-Vasbyt for girl' you will be expected to strive by making a huge success of the course. If you are not committed, please do not apply. Should you wish to join the Kalahari-Vasbyt for girls you will be committed to working as a team. 
We recommend that girls' who are currently in Grade 10 apply for the Kalahari-Vasbyt. Grade 11's are also welcome to apply. 
You obviously need not enroll if it does not interest you, but, if you do, you will need to commit to ensuring the success of the adventure by way of maintaining the high standard developed over many years and do so through hard work and co-operation. It is the declared objective of Vasbyt to always be counted amongst the top 1000 in the world at anything it does. Example: if you wash a car, the test will not be if it is clean. It is if anyone of 1000 other teenagers could have done better. Should such be the case; you are simply not yet good enough! This standard applies to general knowledge, fitness, leadership and everything else that is taken on.
Pleasant surprises abound during this tour, but note that you will return substantially fitter than you were at the commencement of the tour. Despite the hard work, fitness exercises and occasional hardship, the Okovango Vasbyt is not a survival course at all. However, it will be expected of you to accept and subscribe to the attached principles as discipline will be strictly enforced.
No smoking nor any alcohol intake is allowed and that applies to the leaders as well. Although individuals older than 40 is allowed some liberties come PT time, everybody suffers and plays as one team. Adults and leaders eat last, but everybody eats and drinks from the same set menu as planned. Should cooldrinks be available, the adults and leaders will only partake if any is left after the tour members had received theirs. Likewise, re any unexpected luxuries that may be presented to the adults and leaders; only if the entire group can partake, will it be accepted. Such is the culture of the Vasbyt and such is our solemn promise to you.
If you are dreaming of an adventure in the wild where you may, amongst others, drive a vehicle for substantial distances, will learn about the environment and excel above the mundane … then this is the course for you!